The Fragrance of Prayer
Whitney Capps
Day: 30 | Plan: Exodus
Today's Reading: Exodus 30
Exodus 30:38 (NIV) "Whoever makes incense like it to enjoy its fragrance must be cut off from their people."
Today's passage outlines more of the articles of worship—the altar of incense and the basin for washing. We are also given the recipe for the incense and anointing oil. Remember that each item signifies a progression of preparation toward the presence of God in the Holy of Holies.
The basin for washing was just beyond the burning altar where the priests would have sacrificed the animals for their sins and the sins of the people. Sin spoils us—our thoughts, hearts, relationships, and bodies. The priests must be internally and externally clean to come before the Lord.
Immediately in front of the curtain separating the Holy of Holies was the altar of incense. Aaron, the high priest, was to burn a specific recipe of incense before the very place where God's presence would hover and meet with the people.
In Scripture, incense has been a picture of the prayers of God's people, in this case continually going up before the presence of the Lord. In this progression of worship, sins have been covered by a blood offering, sins' corrupting residue has been washed off, and now fragrant smoke lifts heavenward like prayers of preparation.
But we also see that the recipe for the incense could not be treated casually or duplicated for common use. It was for God alone.
The punishment for making this special incense for any use other than in the temple meant that the offender was "cut off from their people" (Exodus 30:38b). This was a devastating discipline. It was meant to correct the behavior but also serve as a warning to Israel. God knows that sin spreads and complacency toward His commands corrupts. The remedy was to be separate from sin.
God wanted to protect them from attitudes of casual worship or complacent preparation. When we treat worship casually, that attitude spreads. We may soon find we are treating His words casually. Perhaps our prayer life becomes complacent. We must separate ourselves from that type of sin. Confession stops complacency from spreading. A single, heartfelt prayer of repentance sends a fragrant offering up to our ready-to-forgive God.
Prayer: Father God, even from the oldest pages of Scripture You teach us that we cannot treat You casually. We cannot come to You without thinking about the supreme holiness of Your character. Help me stop the spread of complacency with regular confession. In Jesus' name, amen.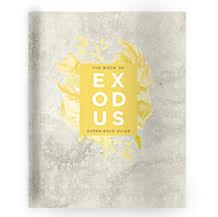 Go deeper with today's First 5 by writing in your Study of Exodus Experience Guide. Don't have one? Get yours here! Digital Download option now available for $8.
More Moments:
The use of fragrant incense and oil became symbolic representations of sacrifice and prayer in... Read More
Download the First 5 app to get the full experience