All That I AM
Whitney Capps
Day: 3 | Plan: Exodus
Today's Reading: Exodus 3
Exodus 3:14 (NIV) "God said to Moses, 'I AM WHO I AM.This is what you are to say to the Israelites: "I am has sent me to you."'"
Here in Exodus 3 we will see a man wrestle with God about two of life's great questions.
"Who am I?"
"Who is God?"
In a burning bush encounter, God calls Moses away from the busyness of life to encounter the presence of the living God in a profound and personal way. Moses has been living in Midian for about 40 years. God explains that in this wilderness He has been silently preparing Moses to shepherd the Hebrew slaves to freedom.
Moses was to go and demand that Pharaoh let God's people go.
Moses response is, "Who am I that I should go?" (Exodus 3:11a)
Moses has been in exile hiding from Pharaoh for 40 years. Now God wants him to return. No doubt this former man-of-action had his confidence shaken. He probably felt like a forgotten failure. This is an important reminder for us. We are never forgotten in the wilderness of our lives. God is often preparing our character to match our calling.
Moses left Egypt a prince. He had been educated, reared and trained to know Egypt, lead people and defend a nation. Perhaps Moses asked this question hoping God would recite this resume back to Moses. Like Moses, when God has given me a spiritual assignment, I hope He'll also give me confidence in my skill and preparation to make saying "yes" a bit easier.
That's not how God responds, to Moses or to me.
More than any person in history Moses was equipped for God's assignment. But God used 40 years of wilderness wandering to strip Moses of his self-confidence. He didn't need Moses qualifications, and He doesn't need ours.
God says simply, "I will be with you." (Exodus 3:12)
God doesn't build Moses up. Instead, God simply says that He's going with Moses. When God wants to give us confidence, He doesn't applaud our gifts. He affirms His presence. This entire dialogue with Moses reminds us that who we are isn't nearly as important as who He Is.
Moses asks God for a bit more clarity. He wants to know God's name. Who is this One who promises to be with Moses?
Up to this point in Scripture God has only identified Himself with one name: El Shaddai. In Genesis 17:1, God introduced Himself to Abraham as El Shaddai, "God Almighty." Generations of Hebrew families had worshipped their God as El Shaddai. It's possible that this is the name Moses expected God to use.
But God has a special assignment for Moses and it comes with a special revelation about God Himself.
God answers in Exodus 3:14, "I AM who I AM." This is His name, "Yahweh." Scholars wrestle with an exact translation and meaning of this introduction. One possible meaning is, "I will be to you ALL that I AM." I love that. The patriarchs of the faith knew God by a part of His indescribable character. Now God promises His presence by revealing that He will be everything to Moses and Israel that they will ever need. This is huge. It's not that He will provide everything they need. He will do that certainly. The provision comes from His very presence with them!
His almighty power of deliverance.
His miraculous control over nature and creation.
His divine protection through the desert.
All of God's majestic glory would be on display and available to Israel because He is their ALL. Moses didn't get a demonstration of God's might, he was promised God's very being.
"I AM."
Do you respond to God's invitations in your life waiting to feel self-confident and affirmed? Is your faith based on who you are, how faithful you have been or could be?
Or is it anchored in the presence of God and His profoundly sufficient character? Yes, who we are isn't nearly as important as who He is.
Prayer: Dear God, I wrestle like Moses with who I am and who You are. I confess that I probably think, pray, obsess more about the first question than the last. Help me to learn like Moses that until I rest my confidence in You, I'll never find the faith to walk with You, to say "yes" to the assignments You have for me. In Jesus' name, amen.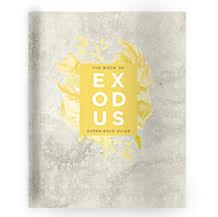 Go deeper with today's First 5 by writing in your Study of Exodus Experience Guide. Don't have one? Get yours here! Digital Download option now available for $8.
More Moments:
Exodus 3 is a pivotal chapter in Scripture. The importance of God's revelation of His most... Read More
Download the First 5 app to get the full experience