The Ultimate Cleanse
Leah DiPascal
Day: 29 | Plan: Exodus
Today's Reading: Exodus 29
Exodus 29:44-45 (NIV) "So I will consecrate the tent of meeting and the altar and will consecrate Aaron and his sons to serve me as priests. Then I will dwell among the Israelites and be their God."
God chose Aaron and his four sons to be the first priests of Israel. Their responsibilities were to maintain the tabernacle and represent the people before God. In order to receive this high calling, they first had to be consecrated, which means dedicated, set apart, and made holy.
This was no easy task. In fact, the ordination of Aaron and his sons lasted for seven days and included many requirements like washing, dressing, anointing, sacrificing animals, wave offerings, sin offerings, liquid and food offerings, burnt offerings, and consecration of the holy altar. I get overwhelmed just thinking about it!
But wait, there's more. After all these detailed rituals were completed, two lambs would be sacrificed every day at the entrance of the tabernacle (also known as the Tent of Meetings) as an offering, in order for God to meet with His people.
This may seem like a strange ritual, but the truth is, just as we learned in Leviticus 26, without the shedding of blood through sacrifice, the Israelites could not fellowship with God. Their sins were like a wall that separated them. Without the shedding of blood, there was no forgiveness of sins. (Hebrews 9:20-22)
Even with all these procedures in place, the process was never complete. Why? Because no matter how many sacrifices the priests offered to God on behalf of the people, once they committed another sin, another sacrifice was required.
This type of redemption would require the ultimate sacrifice of a perfect lamb that only God could provide. That Lamb of God is Jesus Christ. (John 1:29) It is Jesus who takes away our sins-once and for all-paying the final price for our past, present, and future sins.
Although nothing can separate us from the love of God (Romans 8:38-39), our sins distance us from the presence of God and that's why we need Jesus! (Isaiah 59:2, John 9:31)
Not only is Jesus Christ the chosen Lamb of God, who became the ultimate sacrifice, redeeming us from sin and death—once and for all, but He's also the ultimate High Priest who is our Mediator and Representative before our heavenly Father. Through Jesus' righteousness we are cleansed, made holy and acceptable to God. (Hebrews 7:26-27)
As we daily confess our sins and truly repent, God is faithful to forgive us and cleanse us from all unrighteousness. (1 John 1:9) Now, that's what I call the ultimate cleanse!
Prayer: Heavenly Father, reveal to me any sins I've committed in my past (or even today) that I haven't confessed to You. Forgive me of these sins and cleanse me now as I draw near to You. Prompt me throughout the day if I'm about to sin, so I can resist it immediately and draw strength from You. In Jesus' name, amen.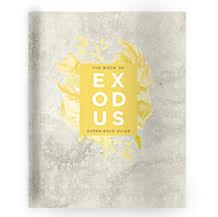 Go deeper with today's First 5 by writing in your Study of Exodus Experience Guide. Don't have one? Get yours here! Digital Download option now available for $8.
More Moments:
In the Old Testament, the priest was the mediator between God and the people, but with... Read More
Download the First 5 app to get the full experience