The Curtain Torn in Two
Wendy Blight
Day: 26 | Plan: Exodus
Today's Reading: Exodus 26
Exodus 26:33 (NIV) "Hang the curtain from the clasps and place the ark of the covenant law behind the curtain. The curtain will separate the Holy Place from the Most Holy Place."
In Exodus 26, God instructs Moses to construct the place in the tabernacle where God Himself would reside and make Himself at home among them. Build two rooms: the Holy Place, and the Most Holy Place. Hire a skilled worker to handcraft a curtain of purple, blue, and scarlet yarn and finely twisted linen. Hang the curtain between the two rooms, isolating the Holy Place from the Most Holy Place.
Moses placed the ark of the covenant in the Most Holy Place, just as God directed. It was there, inside the Most Holy Place, God made His home. God graciously allowed Moses the privilege to enter behind the veil to sit in His presence and speak to Him in the Most Holy Place (Numbers 7:89). But no one else had that privilege except the high priest. And even then, he could only go through it once a year to offer a perfect lamb, a blood sacrifice, to cover the sins of God's people. Without the high priest's sacrifice, there was no access to God for anyone, ever, because sin stood in the way.
The penalty for anyone unlawfully entering the Most Holy Place was instant death. Why such harsh punishment? Because God was holy, and sinful men could not come into the presence of their holy God. Only the high priest who had gone through a rigorous cleansing was pure enough to enter.
But thousands of years later, because of God's grace and great love for His people, God made a better way. He sent Jesus to be the ultimate sacrificial Lamb, thereby eliminating the need for the high priest's annual sacrifice. Jesus shed His blood to make a way for ALL people to have the opportunity to enter into God's presence.
Mark tells us in Mark 15:37-38 that upon Jesus taking His last breath, the earth shook, rocks split, and the temple curtain literally ripped in two!
In that moment, God once and for all removed the barrier between Himself and His people!
What does this mean for you and me? Our Father loves us so much, my friend, that He opened a way for you and me to enter into His presence and pray anytime, anywhere!
Prayer: Father, I know You could have stopped this scene. Jesus could have lifted Himself off the cross. But neither of You intervened. You saw my name. My sin. You both knew the price was death. And Your Son willingly gave His life for mine. I truly cannot conceive the depth of this love and grace. But I am so very grateful for it, Lord. Thank You for making a way so that now, always and forever, I have the privilege of meeting with You whenever and wherever I want to. In Jesus' name, amen.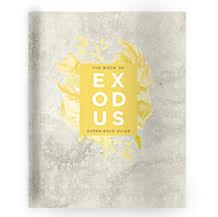 Go deeper with today's First 5 by writing in your Study of Exodus Experience Guide. Don't have one? Get yours here! Digital Download option now available for $8.
More Moments:
In Moses' day, God in all His glory appeared and settled in the Most Holy Place, hovering... Read More
Download the First 5 app to get the full experience