The Covenant Confirmed
Whitney Capps
Day: 24 | Plan: Exodus
Today's Reading: Exodus 24
Exodus 24:7 (NIV) "Then he took the Book of the Covenant and read it to the people. They responded, 'We will do everything the LORD has said; we will obey.'"
Moses has received and read the law of the Lord to the people. Now the people will agree to and confirm their covenant with God.
Let's think about the word "covenant" for a bit. This is a major description of God's relationship with man, and it is more than just an agreement. Today, we treat contracts or agreements more casually. Commitments are easily broken. We need to have a better understanding of covenant from God's perspective. Here are a few distinguishing characteristics of biblical covenant.
First, this covenant was initiated with God. It begins with Him. He has always desired fellowship with His people.
Second, Israel is a theocracy. This means that God is their King and Ruler. As such, He establishes the laws that will guard and guide His people. Though He initiates and upholds the covenant, His people are responsible to honor Him by obedience and faithfulness to the law.
Finally, the unfolding story of the Old Testament will prove that even when His people are faithless, He is faithful. God is a covenant-keeping God. This means He is a promise keeper. We see the fulfillment of these promises in Jesus.
Each lesson of the covenant has huge implications for you and me.
First, God initiates His relationship with us too. He pursues us. Isn't that amazing? Remember that His character is unchanging. The God we see pursuing, training and leading Israel is still doing the same for us today.
Second, God sent Jesus to keep every word of the law, fulfill it completely, and then offer His blood as a sacrifice to pay for all the ways Israel and we have failed. He kept His promise.
The New Testament provides a beautiful bookend to this particular scene in Exodus. Here Moses sprinkled blood on the people to seal their commitment to God's words. In Matthew 26:28 as Jesus and the disciples take the Passover meal, Jesus says, "This is my blood of the covenant, which is poured out for many for the forgiveness of sins.
Don't miss this! God kept His part of the covenant agreement AND our part as well! He did it all! We simply have to receive by faith the work of Jesus, claim His sinless life and death as our own, and allow His blood to cover us and say like Israel, "we will do everything the LORD has said" (Exodus 24:7).
Prayer: Heavenly Father, You are the covenant-keeping God. Thank You for doing through Jesus Christ what I simply could not do on my own. Where I was disobedient, He was obedient. Where I was faithless, He was faithful. Through Jesus, You welcomed me back to You. Strengthen my faith as I watch You keep Your promises. Help me live in a way that reveals You as my trustworthy King. In Jesus' name, amen.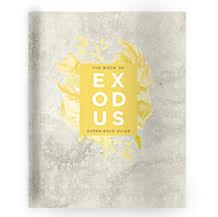 Go deeper with today's First 5 by writing in your Study of Exodus Experience Guide. Don't have one? Get yours here! Digital Download option now available for $8.
More Moments:
In today's passage, we see a phrase repeated that we've heard Israel say before,... Read More
Download the First 5 app to get the full experience