Let's Celebrate
Leah DiPascal
Day: 23 | Plan: Exodus
Today's Reading: Exodus 23
Exodus 23:14 (NIV) "Three times a year you are to celebrate a festival to me."
I love getting together with family and friends to celebrate special occasions. It's always a memorable time of reminiscing the past, enjoying the present and looking forward to the future.
Did you know God likes to celebrate too? In fact, celebrating was His idea from the beginning. And when we come together to celebrate what God's doing in our lives it brings Him much joy!
In the Old Testament, God created seven festivals or feasts for the people of Israel to observe each year. (Leviticus 23)
Each festival was chosen for an appointed time and purpose, but one thing was common in all of them. They were ordained by God and for His people to come together in sacred assemblies to bring honor to His name. (Leviticus 23:2)
These festivals reminded the Israelites of God's continuous provision and protection. It was a special time to reflect on their deliverance from Egypt and to look forward in hope of the Promised Land, victory over their enemies and the coming Messiah.
As New Testament believers, we may not observe these Old Testament festivals each year, but we do have an incredible opportunity to come together on a weekly basis and celebrate the Lord in our local churches and communities.
To worship God with songs of praise.
To give thanks for what He has done in our lives.
To receive a message of hope as we look to the future.
To experience God's presence in corporate prayer.
To celebrate and serve one another in gathered fellowship.
So can I ask … are you connected with a local church that has become your home church? Are you gathering together with other believers on a weekly basis to pray, worship, and study God's Word? What is your favorite part of celebrating and service with others in community?
Let's always remember that attending church should never replace our daily, personal time with the Lord. But it should be a vital part of our spiritual growth as we honor, celebrate, and grow in our relationship with Him.
Prayer: Heavenly Father, help me to prioritize my schedule so that spending time with other believers becomes a priority of my week. Help me make new friends who are strong in their faith. Help me to step out and use the gifts You've given me to serve others in my church and community. Let this be an act of worship to You. In Jesus' name, amen.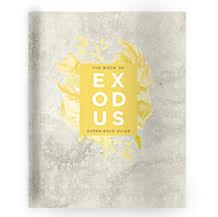 Go deeper with today's First 5 by writing in your Study of Exodus Experience Guide. Don't have one? Get yours here! Digital Download option now available for $8.
More Moments:
When the word "church" is mentioned many people think of a building structure or... Read More
Download the First 5 app to get the full experience