A Holy People
Wendy Pope
Day: 22 | Plan: Exodus
Today's Reading: Exodus 22
Exodus 22:31 (NIV) "You are to be my holy people. So do not eat the meat of an animal torn by wild beasts; throw it to the dogs."
The purpose of the law can be summed up in the first seven words of our key verse: You are to be my holy people. Every law and restriction was designed to bring about a life of holiness.
God desired holiness from His people then and He desires holiness from His people today. Those of us who follow Jesus don't gain holiness by keeping the law as in the Old Testament. Jesus' sacrificial death replaced the law with a decree of grace.
Holiness is more about the devotion of my life than perfection in my life. Jesus directs us to the object of our devotion in Matthew 6:33, "But seek first his kingdom and his righteousness, and all these things will be given to you as well." As we seek Jesus we begin to bear a resemblance to our family heritage of holiness.
Yet we often disqualify ourselves from holiness because of what we've done, but Jesus' death set us right with a holy God and made us co-heirs, or part of God's family. Another way to define co-heir is a sharer in the promise in Christ Jesus. (Ephesians 3:6)
Living a life of holiness will challenge our status quo and demand changes of our lifestyle. We can get discouraged when we fall short, but it's important to remember grace is also our heritage.
As we focus our devotion on Jesus, and accept His forgiveness, before we know it, holiness is our new lifestyle. It's light and free, the exact opposite of the Old Testament Mosaic Law. Our new way of living pleases our heavenly Father and fills us with indescribable peace. The more we live it, the more we want to live it.
Prayer: Heavenly Father, thank You for sending Your Son to make holiness possible for me. Quicken Your spirit in me to rise to the challenge of living a life of holiness. In Jesus' name, amen.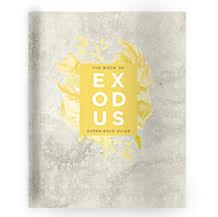 Go deeper with today's First 5 by writing in your Study of Exodus Experience Guide. Don't have one? Get yours here! Digital Download option now available for $8.
More Moments:
The perfect example of a person of holiness is Jesus. We not only pursue holiness when we heed... Read More
Download the First 5 app to get the full experience