God Expands on the Ten Commandments
Wendy Blight
Day: 21 | Plan: Exodus
Today's Reading: Exodus 21
Exodus 21 (NIV) "These are the laws you are to set before them."
In Exodus 20, God laid down the Law … the Ten Commandments … at Mount Sinai. We pick up today with God pulling Moses back into the thick darkness still surrounding Mount Sinai, to reveal a new body of law that expanded on the Ten Commandments. It was through this written law, called the Book of the Covenant in Exodus 24:7, that God would govern His people.
This law would enable the Israelites to live in their newly found freedom with clear expectations and consequences. Each law would provide greater specificity to the general law just established in the Ten Commandments.
How I appreciate that God did not leave His chosen people wondering how to live out the "thou shalt nots." Instead, He wrapped a moral framework around them by which they could measure their behavior.
God expanded on the Ten Commandments by giving practical examples and providing insight into their meaning. The new laws:
Revealed God's moral character.
Laid out God's expectations for His people.
Set a framework for how to live in freedom and how to receive His blessings.
And it was a mutual covenant. If the people obeyed, God's blessings followed. But if not, the appropriate punishment followed. Yet, the discipline was reasonable and fair because God had clearly identified right and wrong behavior.
As we unfold these laws in the next few chapters, we will discover that God intended these laws for freedom, not condemnation. He issued punishments not to oppress or lord His power over people. Rather, He set boundaries with consequences to teach them the importance and benefit of living in the image of the One who created them. These laws also would help them see their need for forgiveness and draw them back to God when they stumbled.
Prayer: Heavenly Father, You created us in Your image. Because of that, You know exactly what we need to live in the fullness and abundance You have promised. So grant me a willing heart to obey even when it's difficult, inconvenient, confusing, or I just plain don't want to. I close my prayer with confidence today because I know You love me, and want only Your highest and best for me. In Jesus' name, amen.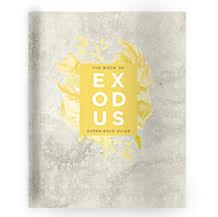 Go deeper with today's First 5 by writing in your Study of Exodus Experience Guide. Don't have one? Get yours here! Digital Download option now available for $8.
More Moments:
Later in Exodus 21:23-24, Moses sets forth the law of retaliation. We know it as "an eye... Read More
Download the First 5 app to get the full experience