The Ten Commandments
Krista Williams
Day: 20 | Plan: Exodus
Today's Reading: Exodus 20
Exodus 20:1 (NIV) "And God spoke all these words …"
Every necessary preparation was made. All the laundry was done. It had taken three days, but over two million people were consecrated and dressed in clean clothes. Holy limits were set around Mount Sinai as the people assembled in anticipation. Something extremely important was about to take place.
Then amid thunder, lightning, smoke and a trumpet blast, the mountain began to shake, and the voice of God spoke!
The people were terrified. They kept their distance, but Moses moved closer. God wanted the people to see for themselves He was the One speaking from heaven.
What were "all these words" God spoke?
The Ten Commandments. The same Ten Commandments our world disregards and aims to discredit. The same Ten Commandments our world defiantly disobeys and does not want to display.
"… all these words" are the timeless truths of God. Truths that are God's holy standard for right living. Words so important that He instructed His people to memorize them, write them down, take them to heart, post them everywhere, talk about them, and repeat them over and over again. (Deuteronomy 6:6-9)
God commanded His people to diligently teach "all these words" to their children at every opportunity! If we are going to talk about them and diligently teach them, we have to know them.
The first four deal with our relationship with God. They instruct us to:
Trust God only.
Worship Him alone.
Use God's name in ways that honor Him.
Rest on the Sabbath and think about God.
The last six deal with our relationship with others. We are to:
Respect and obey our parents.
Protect and respect human life.
Be true to our husband or wife.
Don't take what belongs to others.
Always tell the truth.
Be satisfied with what we have.
In giving the Ten Commandments, God gives His people very clear instructions about living a life set apart for Him. It is through these commands that God teaches us how to love Him and love others. (Matthew 22:37-40)
Prayer: Holy God, thank You for the timeless truth of Your Word. Thank You for loving us and calling us close to hear Your Word today. Help us to listen and take these words to heart. May we value them enough to know them and implement them as we seek to love You and love others. In Jesus' name, amen.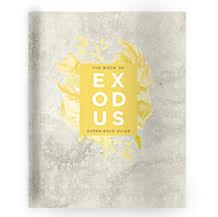 Go deeper with today's First 5 by writing in your Study of Exodus Experience Guide. Don't have one? Get yours here! Digital Download option now available for $8.
More Moments:
The Ten Commandments are not suggestions or recommendations for living, but they are God's... Read More
Download the First 5 app to get the full experience