Ready for Worship
Whitney Capps
Day: 19 | Plan: Exodus
Today's Reading: Exodus 19
Exodus 19:10-11 (NIV) "And the LORD said to Moses, 'Go to the people and consecrate them today and tomorrow. Have them wash their clothes and be ready by the third day, because on that day the LORD will come down on Mount Sinai in the sight of all the people.'"
Israel is now a nation of free people. They have seen God do miraculous things to release and protect them from Egyptian oppression. As they set out across the desert of Sinai, God will begin to define what it means to not only be free, but be His holy people.
God promises that if they will obey Him and keep His commandments, He will make them His treasured possession, a kingdom of priests and a holy nation. (Exodus 19:5-6) The people respond, "We will do everything the LORD has said" (Exodus 19:8b).
The next section reveals something important about the people and about God. This treasured holy nation still would not have unchecked access to God. Despite His intentional and lavish love for them, they could not come to Him casually. And because God wants to show them His presence at Mount Sinai, they must prepare themselves.
Even after washing themselves and making the appropriate preparations they still could not approach the mountain of Sinai even at its base. The presence of God descends at the mountain's peak. The whole mountain trembles violently as thunder, lightning and smoke erupt. Creation responds to God's glory in dramatic fashion.
This passage asks us to consider two important questions.
Do I prepare to approach a Holy God?
Do I tremble in His Holy presence?
In light of this passage, my answer to these questions is not what it should be. I don't take seriously how I prepare my heart to come before the Lord. I want to change that. Maybe I could adjust my mind by turning off distractions, silencing my to-do list or shutting down social media. Perhaps I should abstain from certain behaviors that can corrode my thoughts or corrupt my emotionsbefore Bible study or worship.
When we stand before Him in worship, are we arrested by awe? I don't want to be too comfortable with His presence; do you? Should we respond with less devotion than creation did in Exodus?
He is the God whose presence shakes mountains and whose glory causes fire to fall. Are we ready to worship Him?
Prayer: Father God, thank You for sending Your Son, Jesus, so I can have access to You. I ask that You help me not forget that I am unworthy to stand in Your presence apart from the death of Your Son. Help me to not treat grace casually or my sin callously. Prepare my heart, convict me of sin, cleanse me of any offense that offends You. I want to be ready for Your presence to invade my life. In Jesus' name, amen.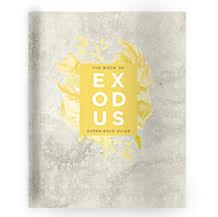 Go deeper with today's First 5 by writing in your Study of Exodus Experience Guide. Don't have one? Get yours here! Digital Download option now available for $8.
More Moments:
In today's passage, God calls Israel a royal priesthood and a holy nation. While there are... Read More
Download the First 5 app to get the full experience