Unrush Me
Lysa TerKeurst
Day: 18 | Plan: Exodus
Today's Reading: Exodus 18
Exodus 18:17-18 (NIV) "Moses' father-in-law replied, 'What you are doing is not good. You and these people who come to you will only wear yourselves out. The work is too heavy for you; you cannot handle it alone.'"
Moses had reached a point in his ministry where he just couldn't do it all. So Jethro, Moses' father-in-law, had to step in and help Moses unrush a season of his life.
And here's what challenges me deeply about this conversation — Moses didn't resist Jethro. The Scriptures say that "Moses listened to his father-in-law and did everything he said" (Exodus 18:24, emphasis added). I think it would have been hard for a leader like Moses to just have his father-in-law pop in and suddenly say, "What you are doing is not good." Excuse me, Jethro? And you're not even going to soften your criticism by telling me all you see I'm doing right first?
Yes, I'm challenged by how well Moses responded to Jethro. But here's what I think preceded Jethro's challenge that helped it go so well — relationship. Jethro was a spiritual father to Moses. They'd connected together. They'd shared together. They'd processed together. They'd sacrificed together. They'd eaten together.
And Moses tasted more than just roasted meat during his meal with Jethro. He tasted the sweetness of a soul satisfied with a good relationship. Jethro wasn't just giving Moses a better way to lead the people. He was giving Moses a better way for them all to resist the constant strains and embrace the unrushed process of protecting their relationships.
Dividing out the responsibilities of settling issues would provide more white space for Moses and quicker answers for the people. Remember, this wasn't just for Moses. Jethro said to Moses, "What you are doing is not good. You and these people who come to you will only wear yourselves out ..." It was for Moses and the people with whom he had relationships.
In other words, do what you need to do to protect and strengthen the fabric of your relationships. It's okay to get help. Divide up your responsibilities. And if you don't have any way to get help, then reduce your task list. Do what you need to do to have healthy relationships.
Absolutely, choosing to unrush helps strengthen the fabric of my relationships so they can better withstand the wear and tear of everyday life. But it also provides space to recognize when relationships need extra attention, extra investments so things don't unravel.
Prayer: Lord, unrush me today. I want to have the whitespace to focus on my most treasured relationships and walk the path You have for me. In Jesus' name, amen.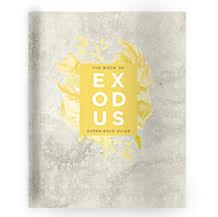 Go deeper with today's First 5 by writing in your Study of Exodus Experience Guide. Don't have one? Get yours here! Digital Download option now available for $8.
More Moments:
The vast majority of the Exodus 18 passage is devoted to telling us about the advice that Jethro... Read More
Download the First 5 app to get the full experience