After the Miracle
Wendy Pope
Day: 15 | Plan: Exodus
Today's Reading: Exodus 15
Exodus 15:22 (NIV) "Then Moses led Israel from the Red Sea and they went into the Desert of Shur. For three days they traveled in the desert without finding water."
The miracle of the Red Sea was a distant memory as the Israelites hiked from the sea's eastern shore to the Desert of Shur. The three-day journey left them hot, tired and thirsty. As we learned in Exodus 13 God took them on a longer route from Egypt to protect them from war. Now, on the other side of the Red Sea with the Egyptians defeated, they faced a desert. Often after a miraculous experience we encounter a time of testing.
Moses had proven his faithfulness to God; the Israelites had proven they would follow Moses. Now God wanted the Israelites to trust and obey Him. The Desert of Shur was the perfect place for a testing of allegiance.
Three days without water must have been almost unbearable. Can you imagine the joy they must have felt as they reached the oasis at Marah? Their joy quickly turned to grumbling as they discovered the water was too bitter to drink. Moses asked the Lord for help. After throwing a piece of wood in the water, the undrinkable became drinkable. After the refreshing came the testing.
God issued a decree, "If you listen carefully to the Lord your God and do what is right in his eyes, if you pay attention to his commands and keep all his decrees, I will not bring on you any of the diseases I brought on the Egyptians, for I am the Lord, who heals you" (Exodus 15:26).
Scripture doesn't tell us of a unanimous agreement by the people to trust and obey God but we can know from God's response that their hearts collectively said "Yes." (Exodus 15:27)
Moses led the people to Elim where God sheltered them from the heat with palms trees and quenched their thirst with fresh, not bitter, water from 12 springs. At the end of their journey God demonstrated His faithfulness to the Israelites' willingness to obey.
Although no one wants to spend time in the dry parched land of a desert, such an experience gives us the opportunity to prove and refine our faith. You may be in the sandy place of a financial desert or a barren relationship that is leaving you parched. Are you in an uninhabited place waiting for a prodigal child to return home or dry up emotionally? God demonstrates His faithfulness in the desert just as He does on the mountaintop. He is more than worthy of our commitment. He will more than satisfy your thirst with His living water and be a constant, trustworthy companion.
Prayer: Heavenly Father, help me to make the most of my desert experiences with You. Forgive me when I complain. I want to recognize Your voice and obey. In Jesus' name, amen.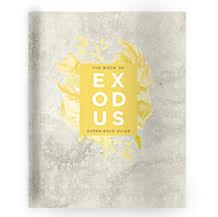 Go deeper with today's First 5 by writing in your Study of Exodus Experience Guide. Don't have one? Get yours here! Digital Download option now available for $8.
More Moments:
We can celebrate our promise-keeping God. We studied in Exodus 6 of God's promise to... Read More
Download the First 5 app to get the full experience