Do Not Fear. I Am With You.
Wendy Blight
Day: 14 | Plan: Exodus
Today's Reading: Exodus 14
Exodus 14:21-22 (NIV) "Then Moses stretched out his hand over the sea, and all that night the LORD drove the sea back with a strong east wind and turned it into dry land. The waters were divided, and the Israelites went through the sea on dry ground, with a wall of water on their right and on their left."
In Exodus 12, Pharaoh finally relented and let God's people leave Egypt. But true to his character, Pharaoh changed his mind and ordered 600 of his best chariots to pursue the Israelites. When the people heard the rumbling behind them, Scripture says terror struck their hearts. (Exodus 14:10)
They found themselves trapped between Pharaoh's soldiers and the Red Sea with no escape. If that wasn't enough, the wind swirled about them and Red Sea waters churned as the Lord blew in a strong east wind. Fear seized their hearts. What was God doing? Bringing a tsunami?
How I identified with the Israelites' emotions. After a vicious attack on my life, I lived for years paralyzed by fear … the kind of fear that suffocates. God used this story to teach me a powerful lesson: although the Israelites could not physically touch or talk with God, He was at work. God was there.
Oh, what hope this story brings. Yes, fear suffocates. But God breathes life and hope. He is at work in invisible ways that we cannot fathom because His ways are higher than ours. This story gave me the courage to press on because I knew God was present and active, working on my behalf to carry me through my fear.
If you find yourself paralyzed by fear, you are not alone! God is with you, at work in and around you. Trust Him even if you cannot see Him with your eyes. Cry out to Him. He will reveal Himself through a circumstance, a verse, a friend, a whisper.
Rest in this promise: "So do not fear, for I am with you; do not be dismayed, for I am your God. I will strengthen you and help you; I will uphold you with my righteous right hand" (Isaiah 41:10).
Prayer: Heavenly Father, I thank You that in my battle with fear I am not alone. You have not abandoned me. You promise to never leave me or forsake me. Give me the strength to persevere and the courage to stand firm in the battle. Give me eyes to see and ears to hear. Help me to trust You and You alone. Thank You that in and by the name of Jesus, I will be free of my fear and walk in freedom and the abundant life You have for me. In Jesus' name, amen.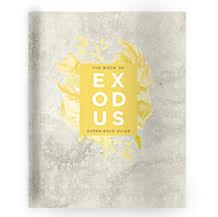 Go deeper with today's First 5 by writing in your Study of Exodus Experience Guide. Don't have one? Get yours here! Digital Download option now available for $8.
More Moments:
Exodus 14:19 tells us that when the Israelites heard Pharaoh's chariots pursuing them, the... Read More
Download the First 5 app to get the full experience