Strike Ten You're Out
Leah DiPascal
Day: 11 | Plan: Exodus
Today's Reading: Exodus 11
Exodus 11:1 (NIV) "Now the Lord had said to Moses, 'I will bring one more plague on Pharaoh and on Egypt. After that, he will let you go from here, and when he does, he will drive you out completely.'"
Egypt had endured nine devastating plagues. The land lay in ruins. The Egyptians were in great despair. And economic impoverishment surrounded them from every angle.
Yet Pharaoh remained perched on his throne, stubborn as ever. Pride and audacity ranked higher than the needs of his own country.
But the final plague would cost Pharaoh greatly. It would bring tremendous grief and loss to every Egyptian family with children. God's longsuffering had endured long enough and now the heavy weight of judgment would fall.
It was time for God to set His children free from the bondage and oppression they had endured for 400 years. The price? The firstborn son of every Egyptian household would be slain — from the palace to the poorest home in the land.
As midnight approached, an invisible sword would be drawn, followed by the greatest wailing Egypt had ever heard. Useless false idols would topple to the ground, as the almighty God of Israel would once again make His powerful presence known.
In the midst of the chaos, a distinctive line was drawn between the Egyptians and the Israelites. As one nation experienced wrath and consequences, the other received protection and provision in response to their faith in God.
As we reflect on the reality of Exodus 11, let's remember we serve the same living God who is not only the great Judge, but also the great Deliverer. The distinctive line that separates and makes us freed children of God is our faith and response to Him.
Freedom comes at a cost and no one knows this more than our Heavenly Father. Just as He set forth sovereign plans to deliver the people of Israel, He also set forth the divine plan of redemption that would cost His firstborn son, Jesus Christ.
Jesus paid the full price for sin and received the penalty for all mankind. Not for a few sins, but for all our sins. In doing this, God has delivered you and me from the kingdom of darkness and transferred us into the Kingdom of His Son, who purchased freedom for us. (Colossians 1:13)
Let us never forget that the gift of eternal life, which Jesus offers us, cost Him greatly. That's how much He loves you. That's how much He cares.
Prayer: Heavenly Father, help me to always remember the sacrifice You made, so that I can experience freedom through Your Son, Jesus. Thank You for delivering me from the kingdom of darkness and inviting me into Your Kingdom forever. In Jesus' name, amen.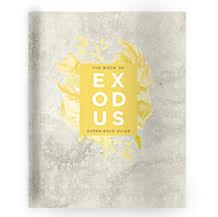 Go deeper with today's First 5 by writing in your Study of Exodus Experience Guide. Don't have one? Get yours here! Digital Download option now available for $8.
More Moments:
The people of Egypt were wiser than Pharaoh. They started to realize their gods did nothing to... Read More
Download the First 5 app to get the full experience