Our God Is Greater
Wendy Blight
Day: 10 | Plan: Exodus
Today's Reading: Exodus 10
Exodus 10:22-23 (NIV) "So Moses stretched out his hand toward the sky, and total darkness covered all Egypt for three days. No one could see anyone else or move about for three days. Yet all the Israelites had light in the places where they lived."
Pharaoh's continued stubbornness caused the Egyptians to suffer another unannounced, devastating plague. Moses stretched out his hand and total darkness shrouded the land.
The word "darkness" here is the same "darkness" used in Genesis 1:2. It derives from the Hebrew word chashak and means "to be dark (as withholding light)." It was not simply the absence of light. God acted intentionally. He withheld the light. Darkness swallowed the light and pressed in upon them. Panic ensued because without sight, the Egyptians were trapped in their homes and could not travel or work.
With each plague, God sent a message to Egypt. There is a God greater than their gods. There is one God who has authority over all the earth. And to put an exclamation point on His wrath, this plague, that suffocating darkness, did not touch the Israelites. They had day and night. They continued to conduct business.
Friend, this story goes deeper than Pharaoh, the Egyptian gods and Egypt's judgment. It reaches into our lives as well. We have an enemy of our souls who delights in leading us into darkness by flooding our hearts with discouragement, despair, even hopelessness. Oh, it may not be literal darkness like the Egyptians experienced, but it is real, very real. The feelings and emotions hang like a dark cloud. Casting shadows. Stealing our peace. Our joy. Our hope.
But like the Israelites, we too belong to God. We are His children, dearly loved. This is who we are in Christ: "You are all children of the light and children of the day. We do not belong to the night or to the darkness" (1 Thessalonians 5:5). Jesus reminds us, "I am the light of the world. Whoever follows me will never walk in darkness but will have the light of life" (John 8:12). Walk in these truths today!
Walk confidently with your conquering King. His name is Jesus! The King of kings and Lord of lords. The name above all names who has all authority in heaven and on earth and is above all gods, principalities and authorities, visible and invisible!
Never forget. Whatever enslaves us. Whatever holds us hostage. Our God is even greater still!
Do you believe God is big enough? Powerful enough? Strong enough to defeat your temptations, overcome your challenges, to conquer your fears?
He is! He is still the Great I Am, and His power is ENOUGH!
Prayer: Great are You, Lord, and worthy of praise! Your works are wonderful. They tell of Your awesome power and speak of Your might. Thank You that You are the same yesterday, today and forever. And just as You loved the Israelites, You love me. You will fight for me. You will uphold all who fall and lift up those who bow down. You are near to those who call on You and are faithful in all You do. Draw near to me today, Lord. Give me just a taste of Your glory! Let me know the intimacy of Your power and presence today. In Jesus' name, amen.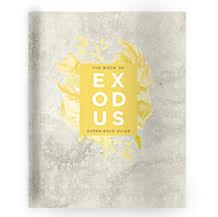 Go deeper with today's First 5 by writing in your Study of Exodus Experience Guide. Don't have one? Get yours here! Digital Download option now available for $8.
More Moments:
In Exodus 10:12, the Lord said to Moses, "Stretch out your hand over Egypt so... Read More
Download the First 5 app to get the full experience