You May Never See It
Nicki Koziarz
Day: 5 | Plan: Covenant
Today's Reading: Ruth 4:13-22
Ruth 4:13 (NIV) "So Boaz took Ruth and she became his wife. When he made love to her, the LORD enabled her to conceive, and she gave birth to a son."
I confess, as a lover of telling and writing stories, I often find myself drafting the ending to certain circumstances in my life. Sometimes the ending I write in my head is beautiful and sometimes it isn't.
But a lot of times my endings are wrong. Especially when it comes to situations I'm trusting God with.
I tend to think how I see a situation must be how it is. But when I fly on a plane it gives me the opportunity to look out the window and try to grasp this perspective God has over all the earth. It is way beyond what we can see from down below.
Our physical sight has limitations. We can only see so far and so wide. And often our physical sight transfers to our spiritual sight.
But God is full of mystery with a perspective beyond anything we can comprehend. So when we allow Him to write the endings to our stories they often end up being something more than we could ever ask or imagine. (Ephesians 3:20)
In Ruth 4:1-12, we saw a beautiful ending to a tragic story begin to unfold. Boaz takes Ruth as his wife. Ruth and Naomi move into a new season of restoration. And this would have been a great place for this story to end!
But the very last verse of Ruth 4 actually tells us the most amazing part of this story: "Obed the father of Jesse, and Jesse the father of David" (Ruth 4:22).
Remember in yesterday's teaching we read that the elders of Bethlehem offered a blessing over Boaz and Ruth? It was a blessing that their offspring would leave a legacy pointing to the building of the kingdom of God. (Ruth 4:12)
Today we read in Ruth 4:13 the actual fulfillment of this blessing.
The Scripture says Ruth and Boaz had a baby boy named Obed. And Obed grew up and became the father of a boy named Jesse. Jesse grew up and became the father of a man named David. (Ruth 4:22) And David is incredibly important because Jesus is described as being the son of David, meaning He descended from David's generational line. (Matthew 1:1-16)
Obed is this generational link between Perez and David mentioned in Ruth 4:18-22. His genealogical line points backwards to God's faithfulness through Perez and forward to God's fulfillment through David.
But here's something to think on …
While living on this earth, Ruth never knew that Jesus Christ came through her generational line. The fulfillment of Jesus coming to earth would be many, many, many years later.
God's providential plan for Ruth is a beautiful likeness of what God is doing through you and me.
There is a generational line flowing from you and me, which God wants to impact in the name of Jesus Christ. Like Obed, our lives also point to two things: Jesus came and Jesus will return. We are links in this generational process.
Galatians 6:9 offers us a promise of what can happen if we don't give up on allowing God to use our lives until Jesus returns: A harvest. A harvest – like Ruth's. We may not ever comprehend fully until we arrive in heaven because God's perspective is beyond what we can see here and now.
Ruth went through an incredibly hard season of loss. Yet she made a commitment to follow the Lord and stay with Naomi. She stuck it out until the very end. And God used her obedience, perseverance and commitment to impact the kingdom of God in a way she would have never believed if someone told her.
What could God do through our obedience?
I bet it will be beyond anything we could ever think up ourselves! Yes, let's let Him write the best endings to our stories. Even if we can't see it now.
Prayer: Father, thank You that what You have planned is better than anything we could ever ask or imagine. When things aren't turning out as we had hoped or when life feels hopeless, help us to remember Ruth. We trust Your perspective with our stories. Thank You for moving our lives from broken to blessed. In Jesus' name, amen.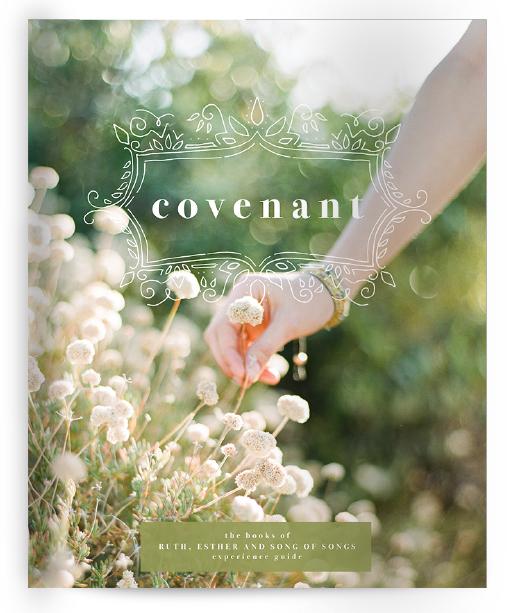 Welcome to the first week of "Covenant!" Study Ruth, Esther and Song of Songs using historical backgrounds for each book, maps and daily study questions. Learn more here!
More Moments:
While Ruth's life was redeemed through this story, so was Naomi's. Losing a husband or... Read More
Download the First 5 app to get the full experience