Redemption
Wendy Blight
Day: 4 | Plan: Covenant
Today's Reading: Ruth 4:1-12
Ruth 4:9-10 (NIV) "Then Boaz announced to the elders and all the people, 'Today you are witnesses that I have bought from Naomi all the property of Elimelek, Kilion and Mahlon. I have also acquired Ruth the Moabite, Mahlon's widow, as my wife, in order to maintain the name of the dead with his property, so that his name will not disappear from among his family or from his hometown. Today you are witnesses!'"
Today is a life-changing day for Ruth. By entrusting her future to Boaz and allowing him to act on her behalf, Ruth receives a new name and a new identity. She is no longer Ruth the Moabitess. She becomes Ruth the wife of Boaz.
To fully grasp the significance of Ruth's transformation, we need to understand the words "redemption" and "redeemer" as used in Ruth's story.
In Ruth's day if a brother died without a son, the law required the brother-in-law to marry his brother's widow. (Deuteronomy 25:5-6) This ensured the widow's firstborn son would carry the brother's name and inherit his land. In ancient Israel, keeping the deceased husband's name guaranteed that each tribe retained God's original land assignments.
Ruth didn't have a brother-in-law, so the guardian-redeemer would be the next closest relative who was able and willing to redeem. Boaz satisfied some of these requirements. He was a relative of Naomi's husband, he had the wealth to buy the land and he promised to do it. However, he was not the next closest relative.
Before Boaz could become the guardian-redeemer for Naomi and Ruth, he had to solve that problem. The law required Boaz to reach out to the closest relative, so he did just that.
Because redemption required a formal legal transaction with the proper parties and witnesses in attendance, Boaz arranged such a transaction at the city gate. Initially, the man agreed until Boaz added one more requirement of the purchase. He informed the man that marrying Ruth was part of the deal. When the man realized he was not only purchasing land, but also a wife, he backed out.
Boaz stepped into his shoes, paid in full for the land and announced to all who could hear he had redeemed Naomi's property and acquired Ruth as his wife!
What a glorious story of redemption! In the beginning of our story, Ruth had lost everything. But then God stepped in and redeemed it all. Through Ruth and Boaz's union would ultimately come Jesus Christ our Lord, our Redeemer. There could be no greater redemption.
As Boaz was Ruth's redeemer, Jesus is ours. As Boaz rescued Ruth, Jesus rescues us. It reminds me of the Corrie ten Boom quote, "There is no pit so deep, that God's love is not deeper still." No circumstance so tragic that His redeeming power is not greater.
Just as God had a new name and identity for Ruth, He offers the same for us.
God doesn't seek perfection. He seeks those who come to Him with a humble heart. A surrendered heart. An obedient heart. He asks for small steps of obedience. Steps He will use to fulfill His plan for us for generations to come.
Prayer: Father, thank You for Ruth's story. Through her story, I have discovered yet again what a faithful, covenant-keeping God You are. Thank You for giving us our own Redeemer in Jesus. Thank You that in Him we too, like Ruth, receive a new name and a new identity. Help me to live and walk in the fullness of my redeemed life so that I can bring glory and honor to You. In Jesus' name, amen.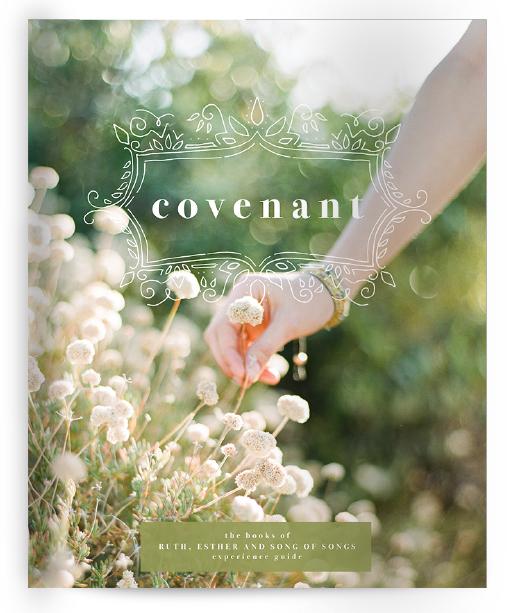 Welcome to the first week of "Covenant!" Study Ruth, Esther and Song of Songs using historical backgrounds for each book, maps and daily study questions. Learn more here!
More Moments:
Following the transaction at the city gate, beautiful words of prayer and blessing poured forth... Read More
Download the First 5 app to get the full experience