The Long Now
Nicki Koziarz
Day: 3 | Plan: Covenant
Today's Reading: Ruth 3
Ruth 3:18 (NIV) "Then Naomi said, 'Wait, my daughter, until you find out what happens. For the man will not rest until the matter is settled today.'"
Honestly, I don't like instructions.
I thrive when someone hands me a project with the invitation to, "Just figure out a way to do it." But so much of what we do in life has specific instructions.
As children, we were taught the consequences of not following instructions. Typically it was a time-out, loss of privileges or something similar. We learned obeying brings a desired result.
But what do you do when you've followed all the instructions and it's still not working out? Sometimes we have to wait to see the results, and that's where things get really tough. We see this happening in our continuing story of Ruth and Naomi.
In Ruth 3, something has shifted in Naomi. She is turning her eyes off of herself and onto Ruth. In doing so, she sees Ruth has several needs for things like: a place of rest, security and relationship. (Ruth 3:1)
Naomi gives Ruth some very specific instructions.
Scholars have studied these instructions found in verses Ruth 3:1-5 and the full significance of these instructions are unknown. But these instructions come down to one thing — Ruth needs to let Boaz (the owner of the field she had been gleaning in) know exactly how she feels about him.
Specifically that she wants to be his wife.
Ruth promises Naomi she's going to do everything she has instructed. (Ruth 3:5)
Ruth arrived at the threshing floor, a communal storage place where Boaz was sleeping, for the night. Boaz is pleased to see Ruth and shows her nothing but kindness. (Ruth 3:10-11) But after following Naomi's instructions and embracing the kindness of Boaz, Ruth discovers some surprising news.
Boaz tells Ruth there was actually someone else next in line to have the chance to become Ruth's husband. (Ruth 3:12) Boaz didn't want Ruth to lose hope; he promised her to do all he could to straighten things out. (Ruth 3:13)
We don't know Ruth's emotions as she walked home to Naomi. But we do know what she was physically carrying. Boaz had given her some barley to take home, so she wouldn't be seen empty handed. Others might have questioned her whereabouts, so this would make it look like she had been gleaning in his field.
When Ruth returned home, Naomi listened to all that transpired and she offered Ruth a wise word, "Wait." (Ruth 3:18) Naomi knew Ruth had done all she could do and now, it was time to wait.
And I wonder today what area of our lives you and I need to whisper that same word of wisdom over?
Wait.

When we are in the midst of waiting to see the good for our lives work out, it feels like we are in a "long now." A long now can last for a few moments or millions of moments.
Like it or not, a long now is between where we used to be and where we want to be. The long now is where wisdom says, "Wait." But where our flesh often says, "Run."
Ruth's long now is that she used to be a wife and she wants to be a wife again to Boaz, but she's going to have to wait to see how this situation unfolds.
Just as Naomi gave Ruth specific instructions, God's Word is filled with instructions for our long now.
Psalm 27:14 instructs us to: "be strong."
Psalm 130:5-6 instructs us to: "have hope."
Proverbs 3:5-6 instructs us to: "trust."
All of us have a long now in our lives. There's so much we will gain if we'll let God instruct us through our long now. Hold tight friend, the long now doesn't last forever … for us or for Ruth.
Prayer: God, help me to follow Your instructions through my long now. And when I've done all that I can do, give me the strength to wait and not give up. In Jesus' name, amen.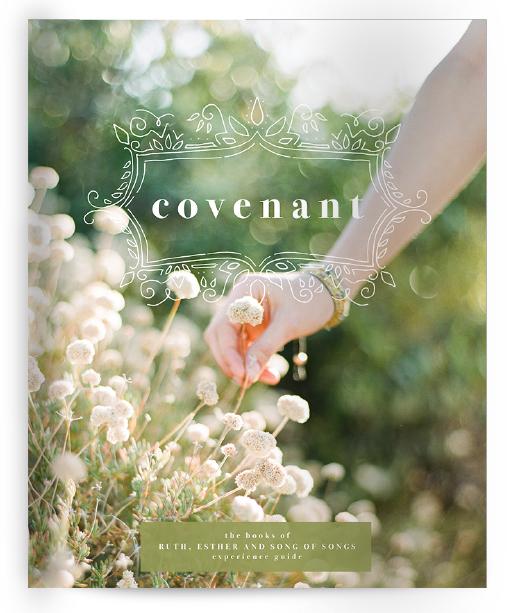 Welcome to the first week of "Covenant!" Study Ruth, Esther and Song of Songs using historical backgrounds for each book, maps and daily study questions. Learn more here!
More Moments:
In Ruth 3:11 Boaz describes Ruth as, "a woman of noble character." In Proverbs 31:10 we... Read More
Download the First 5 app to get the full experience