Field of Hope
Nicki Koziarz
Day: 2 | Plan: Covenant
Today's Reading: Ruth 2
Ruth 2:3 (NIV) "So she went out, entered a field and began to glean behind the harvesters. As it turned out, she was working in a field belonging to Boaz, who was from the clan of Elimelek."
What tends to be your reaction when everything feels out of control?
Most of us don't wander through life's uncertainties with constant peace or calm.
So far, this situation with Naomi and Ruth has felt a little out of control. They both have lost everything, but their reactions are so different. At the end of Ruth 1, we saw Naomi's reaction. She made the decision to return to Bethlehem but came into town burdened with bitterness. She actually told people to stop calling her Naomi and instead call her Mara, which means bitter. (Ruth 1:20)
But in Ruth 2, we see Ruth enter Bethlehem with a very different reaction.
Ruth and Naomi arrived in Bethlehem during the time of barley harvest. This was when the harvesters brought in the barley from their fields, and it was a huge celebration. While the harvesting was happening, widows, the poor, sojourners and orphans all had the right to go into the fields behind the harvesters to pick up any leftover grain. (Leviticus 19:9-10; Deuteronomy 24:19) This was called gleaning.
But gleaning in the fields wasn't a dream job. In fact, it wasn't even safe work. Oftentimes, women were taken advantage of by the men. It was hot and hard work.
In Ruth 2:2, Ruth asks Naomi for permission to go into the fields and pick up leftover grain behind anyone in whose eyes she could find favor. Naomi agrees she should go, and it just so happens Ruth finds her way into a field belonging to a man named Boaz.
Huge spoiler alert.
This is a great field for Ruth! You see, as a relative of Elimelek, Naomi's deceased husband, Boaz had the ability to take Ruth as his wife. So this wasn't "just" a field. It was a field of hope.
In Ruth 2, we see the power of doing what we can do in the midst of uncertain times, but ultimately letting God lead us. Ruth never asks Naomi which field she should go into, but we see the providential hand of God leading her. (Ruth 2:2)
When we make a commitment to stay with God in the midst of a trial, like Ruth did, He will lead us into the right places at the right time.
As Ruth begins work in the field, Boaz takes notice of her. He asks a few questions to his workers and strikes up a conversation with Ruth. He offers her protection, a cool drink of water and kindness she could have never expected to find. (Ruth 2:7-9)
Ruth has another reaction. She falls on her face with gratefulness. (Ruth 2:10)
There are a dozen other reactions she could have had. She could have thrown herself on Boaz, complained about her situation or even carried Naomi's bitterness into this field.
But she found hope through humility and surrender, and Boaz found her. All because she did what she could do: she stayed with God and she found hope.
Learning to let God lead us through the midst of uncertainty is a hard process for sure. It's a roller coaster of emotions. But when we study stories in the Bible like this, it gives us hope.
If God led Ruth, He will lead you and me. Look around today. I bet there's a field of hope nearby.
Prayer: Heavenly Father, when I'm in a situation and don't know where to turn, help me to remember that You are in control and are working – even when I can't see it – for Your glory and my good. In Jesus' name, amen.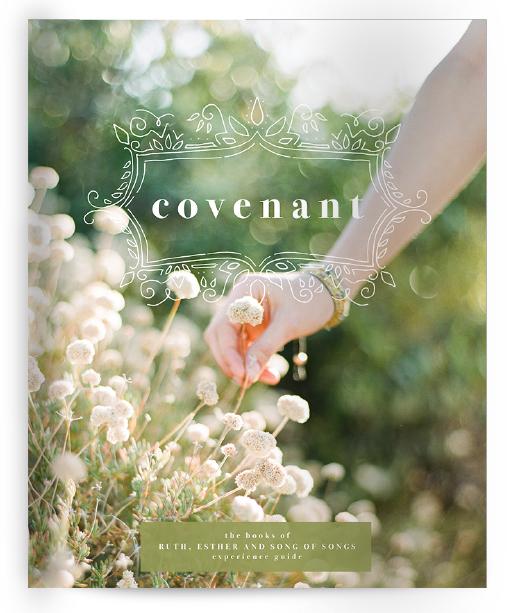 Welcome to the first week of "Covenant!" Study Ruth, Esther and Song of Songs using historical backgrounds for each book, maps and daily study questions. Learn more here!
More Moments:
There's a really powerful teaching tucked away in Ruth 2 that I've skipped over a dozen... Read More
Download the First 5 app to get the full experience