A Decision To Stay
Nicki Koziarz
Day: 1 | Plan: Covenant
Today's Reading: Ruth 1
Ruth 1:16 (NIV) "But Ruth replied, 'Don't urge me to leave you or to turn back from you. Where you go I will go, and where you stay I will stay. Your people will be my people and your God my God.'"
Have you ever gone through a shattered season of life?
I found myself there a few years ago. My husband was hospitalized for two weeks and lost his job. Our oldest daughter had a very expensive surgery, a new baby was on the way and we lost our home due to medical expenses. Each way I turned it seemed life was falling apart.
I felt hopeless and broken for a long time.
But what is so powerful about God's Word is it teaches us that even in the midst of tragedy, God is faithful. The book of Ruth is a powerful example of this.

The first few verses of the book of Ruth introduce us to an Israelite family: Elimelek, Naomi and their two sons, Mahlon and Kilion. They were living in Bethlehem, the same place where Jesus would be born about one thousand years later.
Because of a famine, Elimelek made the decision to move his family to a place called Moab, where there was food and work. However, Moab was a dangerous place for an Israelite family because of the Moabites.
The Israelites worshiped God – Jehovah. But the Moabites worshiped a god named Chemosh. This false god represented some horrific things. These two religions were like oil and water, not very mixable.
In Ruth 1:1 it says Elimelek went to live in the country of Moab. In Hebrew, the word live means a sojourn or temporary stay. You see, Elimelek had no intentions of Moab becoming a permanent home.
But what he didn't know was that this temporary stay would soon become a place of permanent pain.
In the course of time, the two sons married Moabite women named Orpah and Ruth, and not long after, tragedy unfolds. First Elimelek died, then Mahlon and Killion died, leaving three widows and no children. (Ruth 1:3; Ruth 1:5) This widowed and childless scenario left these three women, Naomi, Orpah and Ruth, in a place of near hopelessness.
A shattered season? Definitely.
But tragedy doesn't exempt us from the need to make decisions. And so, three decisions were made.
The first decision: Naomi
She made a decision to go back to the one place she had any ounce of hope left, Bethlehem. (Ruth 1:6) Naomi begged the girls to not go with her. In fact, she practically demanded they return to their families and their god.
The second decision: Orpah
She made a decision to obey Naomi's request and flee to what was familiar, her family and her god. (Ruth 1:14)
The third decision: Ruth
She made the decision to stay with Naomi. (Ruth 1:16-18)
I wondered what would cause Ruth to do the opposite of Orpah and decide to stay with Naomi. But in Ruth 1:16, when Ruth says, "Your God will be my God …" we see a little insight behind Ruth's decision to stay.
When Ruth committed to return to Bethlehem with Naomi, there was no promise of stability or a good future. Ruth had no idea what was ahead; she just made the decision to stay — stay with Naomi and stay with God, no matter what.
What if we offered God this same type of commitment? That we'll stay with Him when it's good. We'll stay with Him when it's hard. We'll stay with Him when it's easy. And we'll stay with Him when it's complicated.
That shattered season I walked through was painful. Like Ruth, I never knew what was ahead. But I knew I needed God. Staying with God showed me a dozen examples of His faithfulness. Like the time the pantry was getting bare and a food basket was anonymously set on our front doorstep that same night. It was a small sign of hope, God would see us through.
And as we make this decision to stay with God, no matter what, we'll see His faithfulness too. May we not give in to the temptation to give up on God.
Stay.
Prayer: God, thank You for the reminder that You see us through shattered seasons. I want to be someone who stays with You. Even when it's hard, messy or complicated, help me to lean into You. Today, I commit to stay. In Jesus' name, amen.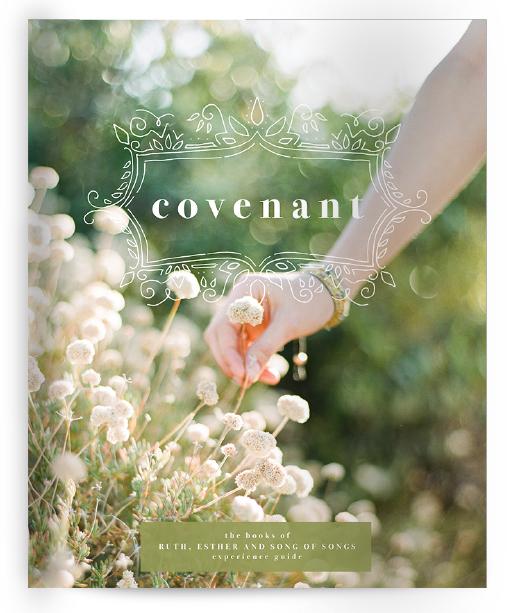 Welcome to the first week of "Covenant!" Study Ruth, Esther and Song of Songs using historical backgrounds for each book, maps and daily study questions. Learn more here!
More Moments:
The very first verse in the book of Ruth clues us in as to why this story is incredibly relevant... Read More
Download the First 5 app to get the full experience