Location:
/Getting Unstuck from My Thinking Rut/
Getting Unstuck from My Thinking Rut
Lysa TerKeurst
Day: 12 | Plan: Romans - 1 and 2 Corinthians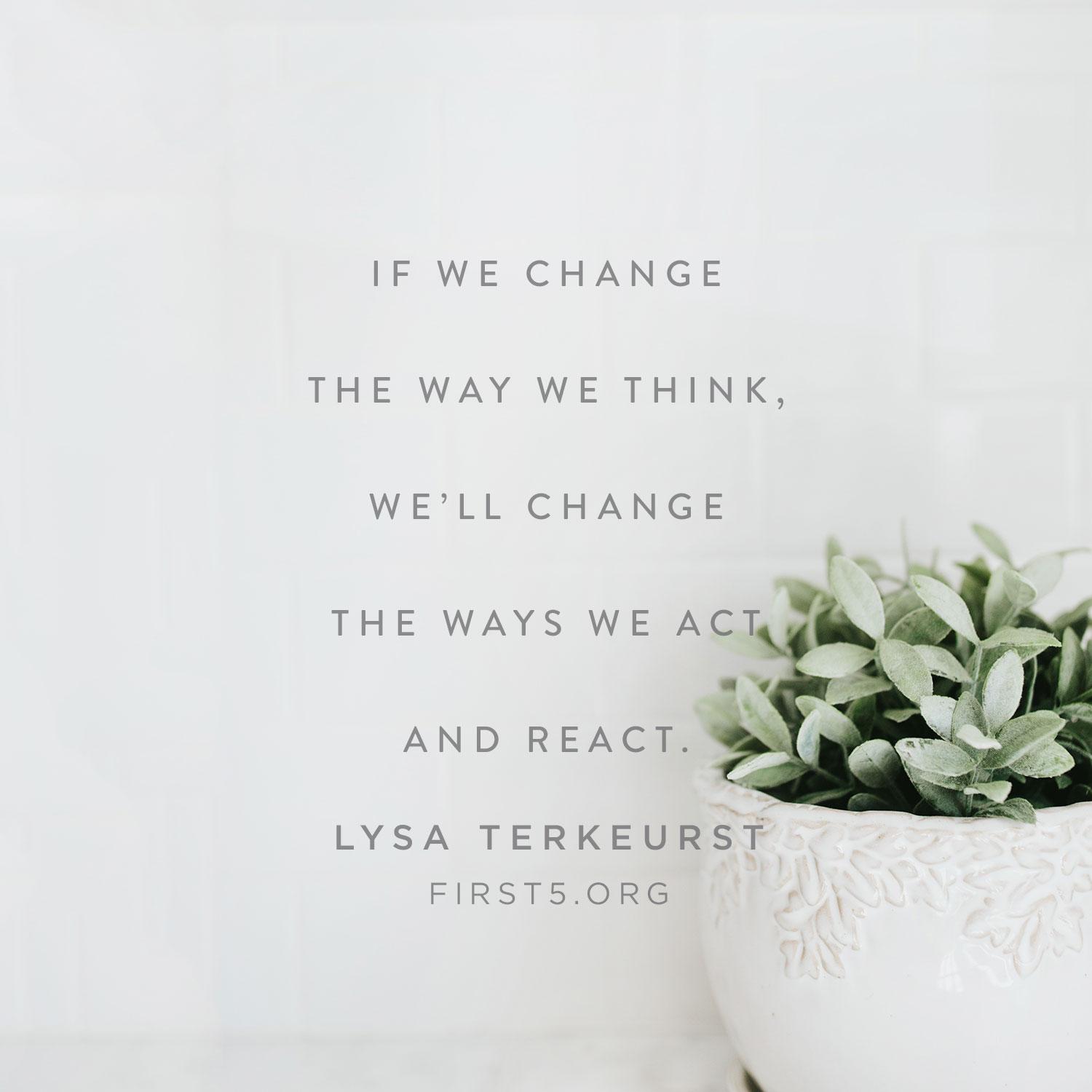 Today's Reading: Romans 12
Romans 12:2 (NIV) "Do not conform to the pattern of this world, but be transformed by the renewing of your mind. Then you will be able to test and approve what God's will is—His good, pleasing and perfect will."
The end of Romans 12 serves as a kind of guide for every Christian. It's a list of the attitudes and actions that should be evident in the life of a believer. Things like letting our love be genuine, being humble, blessing those who persecute us and never repaying evil for evil. (Romans 12:9-21)
This list sounds all well and good until everyone around you starts getting on your last nerve. Or until it feels like someone is set on making your life miserable. Or, heaven help you, if you're like me and you are fairly certain you were born with firecracker blood coursing through your veins.
Have mercy.
We can really be tempted to look at Paul's words and think: "What's the use? I'll never be able to live up to that kind of list. Not with my issues."
Thankfully, before Paul addresses our actions and reactions, he shares a key to being able to live a life that is pleasing to God.
And it has to do with our minds
Brain research shows that every conscious thought we have is recorded on our internal hard drive, known as the cerebral cortex. Each thought scratches the surface much like an Etch-A-Sketch.
When we have the same thought again, the line of the original thought is deepened, causing what's called a memory trace. With each repetition the trace goes deeper and deeper, forming and embedding a pattern of thought. When an emotion is tied to this thought pattern, the memory trace grows exponentially stronger.
For example, if we've repeatedly thought we have a temper, and that thought is tied to a strong emotion, we deepen the memory trace each time we access that thought. The same is true with any negative thought we attach to ourselves. The more we rehearse those thoughts, the more we perpetuate the very actions we are longing to stop.
We won't develop new responses until we develop new thoughts. That's why renewing our minds with new thoughts is crucial. New thoughts come from new perspectives. The Bible encourages this process, which only makes sense because God created the human mind and understands better than anyone how it functions.
A foundational teaching of Scripture is that by the power of the Holy Spirit it is possible to be completely changed through transformed thought patterns. That's exactly the point of today's key verse, "Do not conform to the pattern of this world, but be transformed by the renewing of your mind. Then you will be able to test and approve what God's will is—his good, pleasing and perfect will" (Romans 12:2).
We don't have to live lives conformed to the patterns of this world. And we don't have to stay stuck in patterns of negative actions and reactions. We can let God's Word renew and rewire our minds, because we aren't people destined to stay the same. We are predestined to be conformed to the image of Jesus. (Romans 8:29)
I don't know about you, but understanding how my brain is designed makes our key verse come alive in a whole new way. Being transformed by thinking in new ways isn't some New Age form of mind control. It's biblical, and it's fitting with how God wired our brains.
Yes, when we gain new perspectives from God's Word, we can see new ways of thinking. And if we change the way we think, we'll change the ways we act and react.
Prayer: Dear Lord, I long for the way I live to declare to the whole world that I am Yours. Help me believe that change is possible in the areas where I struggle. Transform me, Lord, from the inside out. I surrender every thought to You. In Jesus' name, amen.
More Moments:
The greatest gift we receive as believers is the gift of eternal life, but that is not the only... Read More
Download the First 5 app to get the full experience