Going to New Places with God
Leah DiPascal
Day: 46 | Plan: Genesis
Today's Reading: Genesis 46
Genesis 46:2-3 (NIV) "And God spoke to Israel in a vision at night and said, 'Jacob! Jacob!' 'Here I am,' he replied. 'I am God, the God of your father,' he said. 'Do not be afraid to go down to Egypt, for I will make you into a great nation there.'"

Moving to a new place can sometimes be nerve wracking. Imagine being 130 years old and God asking you to move your entire family, business and belongings to an unfamiliar country. No wonder Jacob was afraid. I would be too!—unless I knew for sure it was part of God's plan.
Following God's instructions required Jacob to step away from what was familiar and move toward what seemed foreign. He had to embrace the unknown future, while letting go of what felt comfortable and certain.
Like Jacob, saying yes to God's call isn't always easy. It can require more than we're willing to give and take us places we never expected to go. That's when doubt and uncertainty step in and give fear permission to take up residency in our hearts.
God had many blessings waiting for Jacob in Egypt. Jacob would be reunited with his beloved son, Joseph. His entire family would be provided for. The family business would continue to grow. They would escape the harsh realities of the famine. And not only were there immediate blessings, but God promised to make Jacob's family a great nation in the future.
In order to receive the blessings, Jacob had to step out in faith and be willing to face the challenges. That's where many of us give up and give in. We give up on God's promises as we give in to fear.
Is God offering you a new opportunity? Is He asking you to go somewhere that requires several steps toward the unfamiliar? Friend, don't let fear of the unknown keep you from experiencing God's best. With every step you take, He will be right by your side protecting and guiding you along the way.
God's blessings always follow obedience, just like in Jacob's case. Let's be open to receiving all the blessings God has for us, as we surrender our desires for His perfect plan.
Prayer: Heavenly Father, I want to experience all the adventures and blessings You have in store for me. Help me not to give in to fear, but instead give way to Your plans as I follow Your lead. In Jesus' name, amen.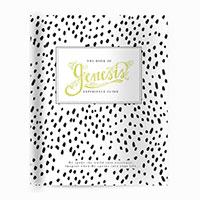 Go deeper with today's First 5 by writing in your Study of Genesis Experience Guide. Don't have one? Get yours here!

More Moments:
God fulfilled all the promises He made to Jacob: His entire family arrived safely and settled in... Read More
Download the First 5 app to get the full experience