From Empty to Full
Wendy Blight
Day: 43 | Plan: Genesis
Today's Reading: Genesis 43
Genesis 43:30 (NIV) "Deeply moved at the sight of his brother, Joseph hurried out and looked for a place to weep. He went into his private room and wept there."

After returning to Canaan with supplies from Egypt, Joseph's family again found themselves desperate for food. But Joseph had warned them the first time not to return to Egypt without their youngest brother. But Jacob didn't want to surrender Benjamin because clearly he had replaced Joseph as his favorite.
To gain his father's trust, Judah accepted full responsibility for Benjamin's safety. Don't miss this. God had broken Judah's heart wide open! He was now willing to give his own life for the favored brother. Oh, how he had matured from that young man who sold Joseph into slavery.
Jacob relented and allowed all his boys to travel to Egypt.
Imagine what it must have been like for Joseph, waiting and wondering if his brothers would ever return for Simeon, who had been left behind as a form of collateral. By sending them away, he risked never seeing any of them, or his father and Benjamin, ever again.
But his brothers did return. And when Joseph fastened his eyes on his little brother, today's verse says, he was so "deeply moved" that he ran from the room and wept. Despite all the hurt his family had caused, his love for them, especially his brother and father, still ran deep.
God's handiwork is beautiful. God used over 20 years of separation and two great famines to transform hearts and heal this broken and tattered family and restore it to wholeness.
Although trials and hardships seem unfair and devoid of any value, Joseph's story teaches that sometimes God allows them to break us … to force us to let go of bitterness, anger, unforgiveness and pride. God uses the pain and brokenness to lead our hearts to repentance and love.
Prayer: Heavenly Father, is there a place of bitterness, pride or unforgiveness in me? If there is, open my eyes to see it and soften my heart to repent of it. Restore me to wholeness and make a way for healing and wholeness in my relationship or circumstance. In Jesus' name, amen.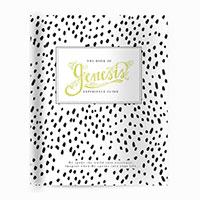 Go deeper with today's First 5 by writing in your Study of Genesis Experience Guide. Don't have one? Get yours here!

More Moments:
2 Corinthians 5:17 says, "Therefore, if anyone is in Christ, the new creation has... Read More
Download the First 5 app to get the full experience