Wrestling Turns to Embracing
Krista Williams
Day: 33 | Plan: Genesis
Today's Reading: Genesis 33
Genesis 33:4 (NIV) "But Esau ran to meet Jacob and embraced him; he threw his arms around his neck and kissed him. And they wept."

In Genesis 33, Jacob is about to meet his brother Esau. A brother whose blessing he had deceitfully taken 20 years earlier. A brother who vowed to kill him.
The night before their encounter, Jacob moved his entire family and all their possessions to safety, and he stayed behind. That's when, suddenly out of the darkness, a man began to wrestle with Jacob until daybreak.
Jacob had no idea who he was wrestling with, but he would not quit. After hours of struggle, the man deliberately popped Jacob's hip out of joint. Still, Jacob refused to let go until the man blessed him.
Then the man said, "Your name will no longer be Jacob, but Israel, because you have struggled with God and with humans and have overcome" (Genesis 32:28).
What a night! Jacob's strength is gone. His body is wracked with pain and fatigue. He has a permanently dislocated hip. And he knows God has just spared his life.
Then he lifts up his eyes and sees Esau coming toward him with 400 men.
Imagine the mounting tension. It is a moment of truth. What will happen next? Will Esau take advantage of Jacob's weakened state and kill him? Will Jacob try to flee again?
Jacob rises to the occasion and risks everything. He leads his family out to meet his brother, humbly bowing down and painfully limping all the way.
Jacob's strength was in his limp. It was a constant reminder that God was in charge, and God had blessed him, regardless of what happened next.
As Jacob limped forward in faith, Esau ran to meet him and embraced him. Obviously, God had been working to change Esau's mind and attitude toward his brother.
At that moment, 20 years of anger and a lifetime of wrestling between brothers miraculously ceased. There they stood weeping! Their conversation exhibited consideration for each other, and their reunion was favorable and pleasant.
Like Jacob, our strength comes when we are submissive and dependent on God, leaving the results to Him. In quiet trust, we find strength.
Only God could have graciously reconciled these brothers. Jacob knew God was responsible for the brotherly love on Esau's face. He even said seeing his brother's face was like seeing God's face. What a change!
No more hatred. No more anger. No more wrestling between these two brothers.
Prayer: Lord, family relationships can be messy. Left to fester they can become toxic. Wrestle away my pride. Give me a forgiving heart that seeks to find favor with You and others. I want to trust You and move forward in faith so You can work out the difficult situations in my life, that healing and reconciliation can occur! In Jesus' name, amen.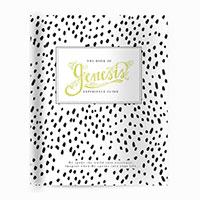 Go deeper with today's First 5 by writing in your Study of Genesis Experience Guide. Don't have one? Get yours here!

More Moments:
After Jacob and Esau had parted ways, Jacob built an altar. He called it El-Elohe-Israel, which... Read More
Download the First 5 app to get the full experience