Heaven's Gate
Krista Williams
Day: 28 | Plan: Genesis
Today's Reading: Genesis 28
Genesis 28:16b (NIV) "Surely the LORD is in this place, and I was not aware of it."

In Genesis 28, Jacob finds himself caught between a rock and a hard place!
Jacob was a homebody, a mama's boy. But he couldn't go home now! He had stolen his father's blessing and was a fugitive on the run due to Esau's murderous threats.
I imagine his heart was full of disgrace, loneliness and fear.
Would his brother hunt him down and kill him? Would he ever see his parents again? What hope was left for him out in the middle of nowhere?
His past was a mess and his future uncertain.
Completely alone and fearful, with questions crowding his mind and emotions out of control, Jacob found a rock to use for a pillow and fell asleep.
As he dreamed, God appeared to him. In his dream, he saw a great ladder resting on earth that reached heaven with a host of angels ascending and descending on it. Above the ladder stood the Lord, who spoke personally to Jacob affirming His promises to him. (Genesis 28:13-15)
In that unexpected, lonely, hard place Jacob realized God was there, and he had not been aware of His presence before. Then as God affirmed His promises to Jacob, that hard place was transformed. Jacob responded in fearful reverence saying, "How awesome is this place! This is none other than the house of God, and this is the gate of heaven" (Genesis 28:17).
That painful place became like heaven's gate. God wants to use the painful places in our lives as a gateway into His presence just like He did with Jacob.
Interestingly, Jacob didn't hear God when he was scheming or fleeing. But when he stopped and got still he recognized God's presence and heard God's Word spoken personally to him.
That's when that rock, that stone of misery, he laid his head on to sleep became a pillar. A pillar that would be the beginning of a house of worship! (Genesis 28:22)
Are you in a hard place? A lonely place? You are not alone. God is with you. You may be unaware, but He is there!
Prayer: Lord, I don't want to be unaware of Your presence with me today. Right now, I stop and pause asking You to reveal Yourself, speak Your Word to my heart and comfort me. Take the painful places in my life and use them as a gateway into Your presence. In Jesus' name, amen.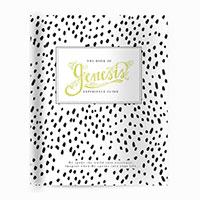 Go deeper with today's First 5 by writing in your Study of Genesis Experience Guide. Don't have one? Get yours here!

More Moments:
Amazingly, God gave Jacob the very blessing he had plotted and deceived his father to receive.... Read More
Download the First 5 app to get the full experience